Commissioners
Leodoloff R. Asuncion, Chair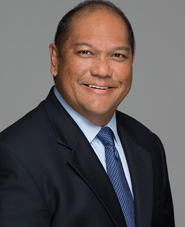 Leodoloff ("Leo") R. Asuncion, Jr. was appointed to the Public Utilities Commission by Governor David Y. Ige for a term to expire June 30, 2026. He has served as a Commissioner since April 2019 and as the Chair since July 1, 2022.
Prior to his appointment to the PUC, Commissioner Asuncion was a Planning Program Administrator II at the Office of Planning, Department of Business, Economic Development and Tourism, and from 2013 to 2018 served as Director of the Office.  As Director, he was responsible for the overall management, development, and implementation of state policy, and coordination and planning support to state and county agencies.  He also served as Planning Program Manager of the Hawaii Coastal Zone Management Program from 2011 to 2013.
Commissioner Asuncion has over 30 years of extensive experience in planning, policy analysis, and management throughout Hawaii and the Pacific Region, in both the public and private sectors, through previous positions with Hawaiian Electric Company, Inc., SSFM International, Inc. the Hawaii State Judiciary, and the State Land Use Commission.  He has also chaired or been a member of a number of governmental boards, commissions, task forces and councils during his professional career, and will serve in 2021 and 2022 as President of the American Planning Association.  He is also a Past Chair of the Coastal States Organization.
Commissioner Asuncion holds a Master in Business Administration from Hawaii Pacific University, and a Master in Urban and Regional Planning and Bachelor of Arts in Political Science degrees from the University of Hawaii at Manoa.
Jennifer M. Potter, Commissioner
Jennifer M. Potter was appointed to the Public Utilities Commission by Governor Ige in March 2018 for a term to expire June 30, 2024.
Commissioner Potter was previously a faculty member at the Hawaii Natural Energy Institute (HNEI), an independent research institute within the University of Hawaii, where she conducted research on demand response, Distributed Energy Resource (DERs) technologies, locational benefits of DERs, and energy efficiency.
Prior to joining HNEI, Commissioner Potter was a Sr. Scientific Engineering Associate in the Electricity Market and Policy group at Lawrence Berkeley National Laboratory where she was the project lead on the 2025 California Demand Response Potential Study for the California Public Utilities Commission. During her tenure, she conducted a number of studies on demand response and integrated demand side management for the U.S. Department of Energy.
Commissioner Potter previously worked at Sacramento Municipal Utility District (SMUD) as the Project Manager on SMUD's SmartSacramento team working on the Department of Energy's American Recovery and Reinvestment Act funded Consumer Behavior Study, known as SmartPricing Options pricing pilot. While at SMUD, she also worked as the Customer Strategy Planner for residential and small commercial EE and DR programs, as well as serving as the Enterprise Performance Data Manager. Commissioner Potter also worked as the Principal Market Analyst in the Pricing and Resource Planning department at SMUD.
Prior to her time at SMUD, Commissioner Potter worked at City of Roseville, Roseville Electric, as the principal load and revenue forecaster, load researcher, and business analyst for the utility.
Commissioner Potter holds a Master of Science in Public Policy and Management from Carnegie Mellon University and a Bachelor of Arts in International Studies and Economics from Southern Oregon University.
Naomi U. Kuwaye, Commissioner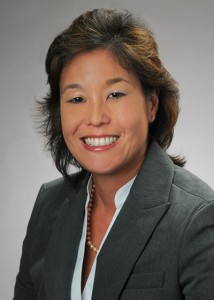 Naomi U. Kuwaye was appointed to the Public Utilities Commission by Governor David Y. Ige and confirmed by the State Senate beginning July 1, 2022 and ending June 30, 2028.
Prior to her appointment to the PUC, Commissioner Kuwaye was an attorney at Ashford & Wriston, LLP where she had practiced since 2012. Previously, Commissioner Kuwaye had also worked for then Honolulu City Councilmember Donna Mercado Kim and practiced law in Oregon and Washington before returning home to Hawaii.
Commissioner Kuwaye earned her juris doctorate and a certificate in environmental and natural resources law from Lewis and Clark Northwestern School of Law and her bachelor of arts in journalism and political science from the University of Hawaii at Manoa.