Renewable Energy Procurement (RFP Docket No. 2017-0352) — Stage 3 RFPs & Interconnection Dispute Resolution Process
Stage 3 RFPs
The Stage 3 RFPs target the following amounts of annual variable renewable dispatchable generation in gigawatt-hours ("GWh"; one GWh equals 1,000 MWh):
965 GWh for Oahu by December 2027,
425 GWh for Maui by December 2027, and
325 GWh for Hawaii Island by December 2030.
The Stage 3 RFPs also target the following amounts of firm renewable capacity:
300 to 500 MW for Oahu by December 2029,
200 MW for Oahu by December 2033, and
40 MW for Maui by December 2027.
For reference, Hawaiian Electric's total renewable energy generation in 2022 on Oahu was approximately 2,135 GWh, on Maui was approximately 497 GWh, and on Hawaii Island was approximately 637 GWh.
Hawaiian Electric will present PPA contracts to meet these targets to the Commission for review, similar to those in the above table.
INTERCONNECTION DISPUTE RESOLUTION PROCESS ("IDRP")
On April 18, 2023, the Commission established a new Interconnection Dispute Resolution Process ("IDRP") to be available to projects bidding into the Stage 3 RFP, by Order No. 39163.  The IDRP is one of multiple new policies that the Commission has approved to improve the interconnection process of grid-scale renewable energy projects in light of recent delays that projects in the Stage 1 and 2 RFPs encountered.  The IDRP was developed by the Independent Engineer ("IE") and based on similar processes that have been adopted in other jurisdictions.  The IDRP is intended to provide an expedited process for resolving disagreements and disputes that may arise during a project's proposal and development phases including, but not limited to, interconnection study assumptions and findings, interconnection equipment requirements, interconnection cost allocation, or any other issue related to interconnection and requiring engineering judgement.
The IDRP will involve up to three levels of dispute resolution, depicted in the following figure. To initiate the IDRP, a dispute must be submitted via email to the IE and the Independent Observer ("IO") of the RFP.  For more details on how the process works, please review Attachment 1 of Order No. 39163.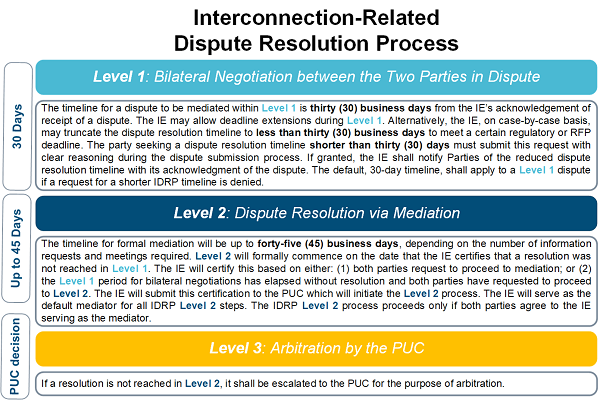 MORE INFORMATION
To see more and view all filed documents in the docket, see Docket No. 2017-0352.
See related pages:
Updated 5/2023